This email address is being protected from spambots. You need JavaScript enabled to view it.
Photos credit: Photos by Dianne Davis or Burt Davis unless otherwise stated.
Final Table Set at 2012 World Series of Poker Main Event
"Octo-Nine" Features 8 Americans & 1 Hungarian. Players return October 29 to Crown Poker's World Champion. Catch the Play on ESPN beginning next week.
The 43rd annual World Series of Poker (WSOP) $10,000 No-Limit Hold'em Championship – referred to as the Main Event – is down to its final nine players. The "Octo-Nine" is all that remains of the 6,598 players who entered the tournament seeking poker's most coveted title and a top prize of more than $8.5 million.
Comprehensive WSOP television coverage will begin airing Tuesday, July 31 at 8 p.m. Eastern on ESPN. Coverage will continue in two-hour blocks each Tuesday at 8 p.m. for 16 weeks, culminating with Main Event Final Table coverage on Oct. 30, 2012.

Photo credit: Joe Giron/WSOP
| | | | | |
| --- | --- | --- | --- | --- |
| Seat # | Player Name | Age | Town | Chip Count |
| 1 | Russell Thomas | 24 | Hartford, CT., USA | 24,800,000 |
| 2 | Jake Balsinger | 21 | Tempe, AZ., USA | 13,115,000 |
| 3 | Jeremy Ausmus | 32 | Las Vegas, NV., USA | 9,805,000 |
| 4 | Steven Gee | 57 | Sacramento, CA., USA | 16,860,000 |
| 5 | Greg Merson | 24 | Laurel, MD., USA | 28,725,000 |
| 6 | Jesse Sylvia | 26 | Las Vegas, NV., USA | 43,875,000 |
| 7 | Robert Salaburu | 27 | San Antonio, TX., USA | 15,155,000 |
| 8 | Andras Koroknai | 30 | Debrecen, Hungary | 29,375,000 |
| 9 | Michael Esposito | 44 on 7/20 | Seaford, NY., USA | 16,260,000 |
The final nine players represent two countries – the United States and Hungary. The players will return to the Rio All-Suite Hotel and Casino in late October to vie for poker's ultimate trophy – a WSOP gold bracelet – and the lion's share of the Main Event's $62,021,200 total prize pool. The winner will receive a first-place prize of $8,527,982, with the other eight players sharing another $18 million-plus.
These are the names that will become familiar to the millions of poker fans who will tune in or stop by to watch as the nine attempt to play their way to the top prize. But beyond them were the thousands who came to Las Vegas with their dreams. Some were able to post the $10,000 entry fee without a thought while others borrowed or earned their entry with work or poker winnings. All went home with bragging rights to having played in the Main Event.
The event is serious, but many found unique ways to ease the stress of play. Table side massages, a few jokes, or even funny hats or clothing selections made for personal statements, photo opportunities, or a little light hearted fun. So here are the stats on the top nine. Since this is not a poker publication, those with a heavier interest can find more information in a variety of locations. This is a start for you. And beyond that, a few fun photos.

If you, like me, are a poker fan, then arrange to be at the Rio beginning on October 29 to see the action live. For more information, check out www.WSOP.com.

The Octo-Nine and their respective chip counts are as follows:
Jesse Sylvia – 43,875,000
Sylvia, 26, is a professional poker player from Las Vegas. Born in Malden, Mass., he spends his time away from the felt snowboarding, reading, writing and longboarding. A graduate of Cal Lutheran University, Sylvia credits his success to surrounding himself with positive friends and family at all times. Prior to making this year's Main Event Final Table, Sylvia had one prior WSOP cash as well as a WSOP Circuit cash for total WSOP earnings of $7,244. He enters the 2012 Main Event Final Table as the big stack.
Andras Koroknai – 29,375,000
Koroknai is a 30-year-old poker pro from Debrecen, Hungary. The graduate of the University of Debrecen won the LA Poker Classic in 2010, taking home more than $1.7 million.
Greg Merson – 28,725,000
Merson is a 25-year-old high school graduate from Laurel, Md. The young poker pro made a splash earlier at this year's World Series of Poker when he won more than $1 million and a gold bracelet for taking down Event 57, a $10,000 buy-in No-Limit Six Handed. In all, Merson has more than $1.2 million in WSOP winnings, not including his guaranteed payday of at least $754,798 for making the Main Event final table.
Russell Thomas – 24,800,000
Thomas is a 24-year-old actuary from Hartford, Conn. Born in Bryn Mawr, Penn., he graduated from Temple University in Philadelphia and made Day 5 of the WSOP Main Event last year, finishing in 248th place. He posted two additional cashes at the 2011 WSOP, including a 5th-place finish in a $1,500 No-Limit Hold'em Six-Handed tournament. Excluding the ninth-place prize money he is guaranteed for reaching the Main Event final table this year, Thomas' total WSOP earnings are $126,796. He enters the Final Table fourth in chips.
Steven Gee – 16,860,000
Born in China, Gee is a 57-year-old professional poker player now residing in Sacramento, Calif. The father of one holds a degree in accounting, which will come in handy as he manages the financial windfall that has come with his appearance at the Main Event final table.
Michael Esposito – 16,260,000
Esposito earned his place at the Main Event final table just three days prior to his 44th birthday. Born in West Islip, N.Y., the commodity broker in downtown Manhattan now resides in Seaford, N.Y. A triathlete, Esposito who is single, has earned five cashes on the World Series of Poker Circuit, winning $22,341 – a mere fraction of the $754,798 he is guaranteed for making the "Octo-Nine."
Robert Salaburu – 15,155,000
Salaburu is a 27-year-old poker player from San Antonio, Texas. The graduate of Alamo Heights High School has posted a number of previous tournament cashes totaling more than $20,000. The guaranteed ninth-place prize money for the 2012 WSOP Main Event will eclipse that total. Salaburu enters the final table 7th in chips.
Jake Balsiger – 13,115,000
Balsiger, 21, is a rising senior at Arizona State University. Born in Portland, Oregon, he will work to complete his studies while coming back to participate in the biggest poker tournament in the world. He has the chance to become the youngest-ever WSOP Main Event champion, eclipsing 2009's world champion Joe Cada, who was just shy of his 22nd birthday when capturing the crown. He has posted one previous WSOP cash for a little more than $3,500. He enters the final table 8th in chips.
Jeremy Ausmus – 9,805,000
Ausmus is a 32-year-old professional poker player whose hobbies include chess, guitar and piano. Married with one child and another on the way, Ausmus cites being a father as his life's greatest accomplishment. Born in Lamar, Colo., he earned a bachelor's degree from Colorado State University. He will enter the final table as the short stack.
Gaelle Baumann, 29, of Sliema, Malta by way of France, finished 10th, coming within one place of becoming only the second woman to ever make a WSOP Main Event final table. For the first time ever in Main Event history, women finished in both 10th and 11th place, with waitress Elisabeth Hille of Bergen, Norway, taking 11th place.
In addition to the first-place prize of $8,527,982, prize money for the remaining eight spots is as follows*:
2nd place: $5,292,889
3rd place: $3,797,558
4th place: $2,850,494
5th place: $2,154,616
6th place: $1,640,461
7th place: $1,257,790
8th place: $971,252
9th place: $754,798
When play resumes October 29, the players will pick up with 1 hour, 9 minutes and 45 seconds remaining in Level 34. The antes will be $40,000 and blinds will stand at $150,000 and $300,000.The 2012 Main Event capped the largest-ever WSOP in terms of prize pool. A total of 74,766 players from 101 countries entered the 61 events on this summer's WSOP schedule, generating a total record prize pool of $222,035,192.The 2012 Main Event was the fifth-largest in the tournament's illustrious history, drawing 6,598 players from 83 nations.
*The final nine players each received ninth-place prize money upon reaching the final table; the remainder of the prize pool will be placed in an interest-bearing account to be added to the prize pool on a percentage basis for the final eight finishers.
ABOUT THE WSOP The World Series of Poker (WSOP) is the largest, richest and most prestigious gaming event in the world, awarding millions of dollars in prize money and the prestigious gold bracelet – globally recognized as the sport's top prize. Featuring a comprehensive slate of tournaments in every major poker variation, the WSOP is poker's longest running tournament in the world, dating back to 1970. In 2012, the event attracted 74,766 entrants from 101 different countries to the Rio in Las Vegas and awarded more than $222 million in prize money. In addition the WSOP has formed groundbreaking alliances in broadcasting, digital media and corporate sponsorships, while successfully expanding the brand internationally with the advent of the World Series of Poker Europe. For more information on the World Series of Poker, visit www.WSOP.com.
And now, another view of the World Series of Poker Main Event.
"Hairs" an interesting photo I took.  It's none other than Jason Alexander playing in the Main Event.  Notice something different about him?
The adorable  nine year old poker prodigy Alexa Fisher and her family were back again this year.  The personable young lady hopes to play in the Main Event some day.  For now, she participates in charity tournaments, enjoys meeting the players, and does the usual kid stuff with her friends.
Dave Williams
Antonio Esfandiari, winner of  The BIG ONE for ONE DROP along with $18,346,673 – the largest prize ever awarded in sports history, was cheerful and animated, posing for photos with his proud father and his fans, including me.
Why the outfit I asked Tatjana Pasalic.  "I lost a bet," she replied.
Hats off to these players who donned some interesting chapeaus during their play.
Star Trek Convention Draws Near.  Captain Kirk is Beaming Down to LV
Okay, I admit it. I am both a senior citizen and a trekkie. I remember fondly the years when Captain Kirk and Mr. Spock roamed the universe, discovering new civilizations and righting wrongs without violating their directives. I remember the tribbles. And who could forget those memorable words, "Beam me up Scottie."
While I am not well versed on the subsequent versions of the television show, apparently plenty of folks are devotees of the series. That's why the official Star Trek Convention returns to Las Vegas on August 9-12, 2012 at The Rio Suites Hotel. This year marks the 11th year that the convention will be in las Vegas and the 25th Anniversary celebration of Star Trek.
Seventy Star Trek celebrities scheduled to make a personal appearance include William Shatner, Avery Brooks, Kate Mulgrew, Scott Bakula, Johathan Frakes, Brent Spiner, plus Nichelle Nichols, Grace Lee Whitney, George Takei, and Walter Koenig. At the 2011 convention 1040 fans broke the Guinness Book of World Records achievement of having the most people in Star Trek Costumes in one place.
In 2012, attendees will attempt to break their own record in response to internet chatter that other fan conventions are preparing to vie for the title. The Guinness Book of World Records attempt will take place on Saturday August 11, 2012 at The Las Vegas Official STAR TREK Convention. All ticketed attendees can participate provided they come in full costume. This year's gathering is expected to draw over 16,000 fans from all over the galaxy.
The convention will include will include star appearances, parties, photo/autograph opportunities, costume contests, no-minimum-bid auctions, concerts, panels, seminars, lectures and more.
Day by day highlights include:
THURDSAY: A self-explanatory, incredibly unique opportunity called Coffee with Show Business Icons Nichelle Nichols and Ben Vereen. It starts at 10:45 a.m. and requires a separate admission.
Stars taking the stage throughout the day will include Ben Vereen, Gregory Itzin, Martha Hackett, Chase Masterson, Bobby Clark, John de Lancie, Nichelle Nichols, Robert Picardo and David Gerrold, Jeffrey Combs, Casey Biggs and more.
StarTrek.com's very own Jordan Hoffman will host a panel called StarTrek.com Presents: One Trek Mind LIVE, and StarTrek.com will also present The Federation Revealed, with author David A. Goodman previewing the upcoming book Star Trek Federation: The First 150 Years.
Ethan Phillips and Rene Auberjonois will star in a two-man theatrical event, and Combs and Biggs will be joined by Armin Shimerman for a performance of works by William Shakespeare.
Also on tap: a trivia contest hosted by Larry Nemecek and a sold-out blow-out party to be held in the Voodoo Lounge at the Rio. The dealers' room will be open all day long, featuring vendors with their wares and dozens of Trek actors signing at their booths. Check the Creation Entertainment schedule for photo and autograph opportunities.
FRIDAY: A Friday Morning Breakfast with Connor Trinneer, Dominick Keating, Garrett Wang, Patti Yasutake, Hallie Todd and Alexander Enberg; requires separate admission. Set to take the stage throughout the day are Grace Lee Whitney, Ira Steven Behr, Lisa Wilcox, Michael Snyder, Eugene Roddenberry, Diana Muldaur, Trinneer, Keating, Enberg, David Livingston, Andrew Robinson, Eddie Paskey and more. Look for special performances by Trinneer, Keating and Wang, as well as by Robin Curtis and Eric Menyuk.
StarTrek.com will present three panels, namely Trek Girls: Who Is a Trek Girl and How Did She Become One?, featuring Ashley Eckstein, Trek Treasures, with frequentStarTrek.com blogger Alec Peters helping fans determine the value and authenticity of their collectibles, and another One Trek Mind LIVE session with Jordan Hoffman.

At night, back at the Voodoo Lounge, fans can partake in the Captain's Chair Celebration Party, with special guests Robert O'Reilly and J.G, Hertzler. The dealers' room will be open all day long, featuring vendors with their wares and dozens of Trek actors signing at their booths. Check the Creation Entertainment schedule for photo and autograph opportunities.

SATURDAY: David Gerrold will get the day started with a writer's workshop; separate admission required. Trek favorites taking the stage will include Anthony Montgomery, Virginia Madsen, Ronald D. Moore, Jonathan Del Arco, Brannon Braga, Brian Thompson, J.G. Hertzler and Robert O'Reilly. On stage as well: a TNG reunion with Jonathan Frakes, Brent Spiner, Michael Dorn, LeVar Burton, Gates McFadden, Marina Sirtis and Colm Meaney, a DS9 Ferengi get-together with Armin Shimerman, Max Grodenchik and Aron Eisenberg, and a Voyager gathering with Kate Mulgrew, Robert Beltran, Roxann Dawson, Tim Russ, Robert Duncan McNeill and Garrett Wang.
Also on tap: a costume parade, StarTrek.com guest blogger Professor Anthony J. Rotolo's course "Star Trek and the Information Age," One Trek Mind LIVE with Jordan Hoffman, Avery Brooks in Concert, a Dessert Party with Tim Russ and his band providing the music, and a panel called Star Trek Online: Discussion with the Developers. Don't forget the dealers' room will be open all day long, featuring vendors with their wares and dozens of Trek actors signing at their booths. And check the Creation Entertainment schedule for photo and autograph opportunities.
WILLIAM SHATNER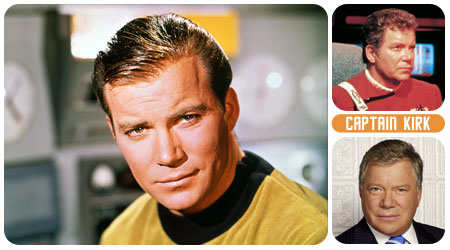 Captain Kirk One of the world's most popular performers Mr. Shatner has been part of all of our lives for decades with his film, television and stage work. As Captain Kirk he created a legendary iconic character that stands at the forefront of the Star Trek franchise. Actor, director, writer, singer, documentarian, businessman: Shatner continues to gain new fans with countless projects always under way. You must see him LIVE and IN PERSON: it is an experience you will never forget! Appearing Sunday

SUNDAY: George Takei and Walter Koenig will join fans for a Classic Cast Breakfast; yes, it's a separate admission. Also scheduled: a David Gerrold Writer's Workshop, CBS presents its annual What's New with Star Trek Merchandising Panel,The Four Captains Live on Stage with William Shatner, Kate Mulgrew, Avery Brooks and Scott Bakula, a screening of Shatner's new Get a Life! Documentary, StarTrek.com presents One Trek Mind LIVE, StarTrek.com presents Before and After: A Behind-the-Scenes Look at Star Trek: The Next Generation's Journey Into High Definition, a Craft Workshop, and John Tenuto on The History of Star Trek  Collectibles.

Actors taking the stage will include Takei and Koenig, Jennifer Hetrick, Steven Culp, Glenn Morshower and Alice Krige. Once again, don't forget the dealers' room will be open all day long, featuring vendors with their wares and dozens of Trek actors signing at their booths. And check the Creation Entertainment schedule for photo and autograph opportunities.

For more information, visit www.startrek.com.  And by the way, Live Long and Prosper. 


 




 

 

 

 

 

 

 

 

 

 

 

 

 

 

 

 

 




 




 




 

By Dianne R. Davis